About Us

We, Technopet Mahchineries, take immense delight to introduce ourselves as an engineering entrepreneur in the field of PET Stretch Blowing Machines. Established in 1999, we are a renowned manufacturer, supplier and exporter of Fully Automatic Machines, Automatic Machines, Partly Automatic Machines and PET Jar Making Machines. All these machines are used for manufacturing PET Jars and Bottles to the users' outlined standards. Our machines are extensively used for processing PET Containers, which are required for packaging Soft Drinks, Edible Oil, Cosmetics, Foods, Water and Pharmaceutical Products. The machines are capable of producing a vast range of products of several sizes and shapes.

In order to manufacture our products and meet the customers' demands, we have established sound infrastructure facilities. We have various units like material acquisition, production, quality check, logistics and sales. All these units are well linked with each other and resourced with the latest machines & tools. Starting from the material procurement to the after sales services of machines, all the activities are carried out in a streamlined manner by our experienced professionals. We manufacture our machines by using avante-grade components and inculcating the state-of-art-technologies. Besides, being an ISO 9001:2008 certified organization, we check each manufactured machine as per the industry's defined quality guidelines. It assists us to deliver defect free products and earn customer's goodwill. It is due to all these core competencies, we are competent of developing the world class products and fulfilling market demands on time.

Our Mission

To develop high quality PET Stretch blowing machines and provide them at the affordable prices.
To introduce our products to a large number of customers across the world.

Time Line Achievements

(500+ Machine Successfully Running across India
Exported to more Than 15 Countries Worldwide)

1996 : Semi - Automatic 2 cavity blowing machine with linear heater
2000 : Semi - Automatic 2 cavity with rotary heating system for wide mouth jar and CSD bottle
2002 : Semi - Automatic 2 cavity with rotary heating system with 360 degree neck cooling system
2004 : Automatic bottle ejection system with 500 bottles per cavity for water and CSD filling
2005 : Heat set, hot fill technology developed with three piece blow mould design system
2006 : Fully automatic machine for hot fill & amber colour Pharmaceuticals bottle
2007 : 20 litre Jar blowing machine developed with automatic ejection system
2008 : Integrated handle jar blowing machine developed for DHARA
2009 : Prefertial heating technique for Cosmetic Product and non-symmetrical bottle for liquor
2010 : On Line Bottle feeding machine for CSD/beer bottle with bottle exhaust air reclamation system
2011 : Light weight bottle blowing system for 17.5 gram one litre water bottle
2012 : Servo control system introduced in all type of machine for heating preform transferring & sorting
2013 : World Compact footprint and lowest power consumption per bottle blown fully automatic machine developed
2014 : Patent applied for Intermittent Heating Oven & 360 Degree Neck Cooling
2015 : P - Auto 220 BPH Machine developed
2016 : Semi - Automatic Online machine Developed with 2400 BPH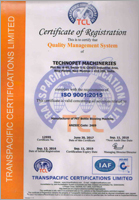 Some of our Customers

Latest Trade Offers
Our firm is a very prominent name of the market for delivering a wide range of Fully Automatic Machine (Hooper Feeder) to our esteemed consumers with ..
We are a very famous voice of the market for providing a broad range of Partly Automatic Machines (PAUTO 1600) to our esteemed patrons with the follow..